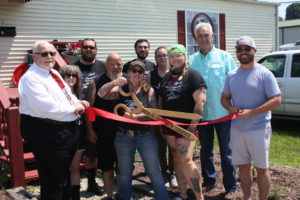 On Saturday June 9th, the Smith County Chamber of Commerce welcomed its newest member Titan Tattoo II with a ribbon cutting at Titan's Community Appreciation Day. Titan Tattoo II is an artist-owned and operated custom tattoo and professional body piercing studio now open at 217 Upper Ferry Road in Carthage. Titan's owners were inspired to open a smaller, slower paced studio near the Cumberland Plateau where clients could receive the same quality tattoo and body piercing services as in larger cities like Nashville. Titan Tattoo II began their journey on March 9th of this year and are the first of its kind for Smith County. With fully licensed artists, they specialize in custom artwork, cover-ups, large scale black & gray and color work as well as realistic portraits. Big or small, they do it all!
For anyone looking for a stunning sleeve, a portrait or just a small, simple design, their artists will provide quality attention to detail and professionalism. Titan's artists will always take the time to discuss a tattoo with their clients, helping them to make the best choices in design and application. They will also provide the verbal and written instructions and information that is needed to properly care for a new tattoo or piercing. This will ensure the best healing process. Aftercare products for new tattoos and piercings are available for purchase. At Titan Tattoo II, walk-ins are always welcome, but appointments are preferred. Titan Tattoo II always does their best to take care of all walk-ins. An appointment is never needed for body piercing services. Titan carries an extensive line of body jewelry including large-gauge organic ear plugs. Aftercare products for new tattoos and piercings are also available for purchase. Titan's artists are friendly and are ready to consult and offer suggestions to make your tattoo ideas amazing and design your tattoo. They can help you get started today on the work of art you dreamed of for years. Titan Tattoo II invites you to top by the studio for a truly unique experience with artists that tattoo & pierce with integrity! They look forward to meeting you!
Attending Titan Tattoo II's ribbon cutting were Carthage Mayor Donnie Dennis, Karen Cain- Owner/Tattoo Artist/Master Piercing Technician, Wes Bennett- Tattoo Artist, Ty Higgins- Tattoo Artist, Amy Millslage- Tattoo Artist, Bonnie Phillips- Master Piercing Technician, Bill Woodard- Smith County Chamber of Commerce and Matt Watts- Carthage City Council.